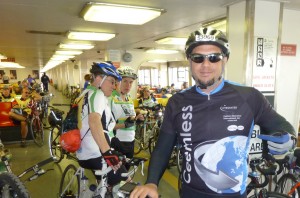 Two wheeling in 2011
As some of you may recall, last year, our president Chris Serrano embarked on a personal challenge to see if he could pedal 100 miles through the streets of NYC.  Riding as a member of Team SocialWish, he was able to complete 82 of the 100 miles and decided immediately that he would definitely do it again in 2011.
Fast forward to 2011 and we decided to start our own team:  TEAM CEEMLESS AIR! We will be debuting our team jerseys for the first ride, showcasing the Ceemless Air colors and style.  Here is a lineup of 3 rides that we'll be participating in throughout the New York area:
Sunday May 1st:   TD Bank Five Boro Bike Tour, a 42 mile ride through the streets of NYC.
Saturday, June 11th:  Tour de Cure, a 100 mile ride through the East End of Long Island.
Sunday, September 18th:  NYC Century Tour, a 100 mile ride through the streets of NYC.
The TD Bank Five Boro Bike Tour and the NYC Century Tour are both biking awareness rides aimed at getting more people to go green  and not be afraid of using the hundreds of miles of bike paths throughout the city.  The Tour de Cure is  a fundraising ride organized by the American Diabetes Association geared towards raising much needed funds for research.
We'd also like to thank our sponsors:  SocialWish, Integrated Printing & Graphics and CCI, Inc. who, with the help of their support, will keep the team looking spiffy for these rides!
About SocialWish
SocialWish is a fundraising platform for Social Media. The company enables any organization, group or individual to leverage Social Media for raising awareness, encouraging involvement and increasing donations.
About Integrated Printing & Graphics
"IPG takes on the printing responsibility of their clients from the seemingly simple forms and business cards, to complex marketing brochures.  High quality printing, exquisite design capabilities and on time delivery are all a part of what makes them one of the best in the industry."
For more photos from all our riding events this year please visit our facebook page!